SAVE THE DATE · UPCOMING EVENTS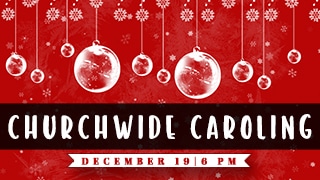 Dec 19 | Churchwide Caroling
Join us  as we gather together for a fellowship meal at 5:30 in the Christian Life Center and then split up in to different groups to go caroling all over Gainesville. When we are finished, we will meet back at the church for cookies and hot chocolate! This is a great opportunity for you to have fun as a whole family during this Christmas season!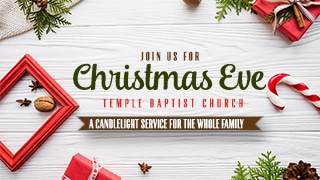 Dec 24 | Christmas Eve Service

Please join us as we gather together to remember the birth of Jesus during a special candlelight service. This service is designed for the whole family to enjoy from kids to grandparents and everyone in between. We encourage you to invite a co–worker, friend, neighbor, or family member to attend with your family!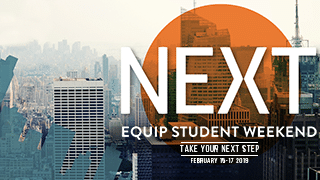 Feb 15-17 | Equip Student Weekend
In February of 2019, students in 7th-12th grade are invited to take their faith to the next level. This weekend will teach students spiritual disciplines that will help them grow in their faith for years to come. Students can register today through December 23rd for the early-bird special of $35. The price goes up to $50 after that. Register at tbcgainesville.org/equip
Service Times & Locations
Sunday School
9:30 AM

Worship Service
10:45 | Christian Life Center

Evening Bible Study
6:00 PM | Sanctuary
Listen to our Latest Sermon
Our Identity & Mission
Temple is multi-generational church united to make disciples who are transformed by the Gospel, connected in Biblical Community, and living out God's Mission.
Gospel
At Temple we really believe that the Gospel is really good news! Everything we do is shaped by the Gospel—the good news of what God has accomplished through Jesus–in His life, death, & resurrection–to secure forgiveness of sins & life for all who will repent of their sin and believe in Jesus as Lord. We believe the gospel isn't just the good news that saves us but transforms us everyday. As the heartbeat of Temple, you'll hear us talk about the gospel a lot. 
Community
We need each other! That's because we are made for community. We are made in the image of triune God who has eternally existed in community. We know that gospel growth will only happen in a community of believers who pray together, love one another, and spur one another on deeper in the gospel. At Temple, we believe the church is just a place but a people who are connected by doing life together. We'd  love to have you as part of our community
Mission
We have been rescued & redeemed by a loving and missionary God. Therefore, we seek to join Him in His mission by making disciples among all nations and loving our neighbors with the love of Christ. At Temple, we believe that every Christian is a full-time missionary called to serve wherever God has placed them.  Therefore we seek to train, equip, and send our people to be a blessing to our city, community, and crafts.
Be Our Guest
We know that visiting a new church can be really hard! We want your experience to be as stress-free as possible. Find out what to expect when you visit Temple! We can't wait to meet you and hear your story.