DNow 2017
Ever been to a DNow? Good, that's probably a yes, but for all you newbies out t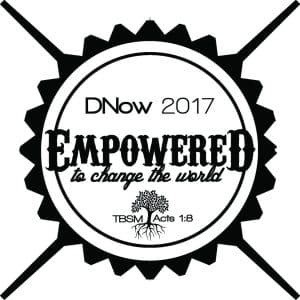 here, listen up because this isn't just a crazy cool weekend, it's one that could reshape your entire thinking about God, Man, the Bible, Serving, and Shaving crème (I know, weird)!
This years DNow is about Empowered to change the world. Jesus' final address to His followers was to be His witnesses (Acts 1:8). This weekend we will be just that, real people, in real action to fulfill Jesus' final address. We will have a guest speaker, a worship band and some awesome bonding time. Seriously, fun stuff.
DNow is for Students in Grades 7th-12! Register Here: TBSM 2017 DNow Registration
Don't want to fill it out online download the registration form here: TBSM 2017 DNow Registration form
2017 DNow Packet can be downloaded here: TBSM 2017 DNow Packet
The DNow packet has everything you need to know about this years Dnow! What's not in this packet will be a total surprise come February 24th!